Clear Aligner Treatment with Invisalign
Invisalign Clear Aligners
Would you like straighter teeth but do not like the way braces look? Not to worry, you still have options. One of those options is clear aligners with Invisalign. These clear aligners are comfortable, low profile, custom-made clear plastic trays that gently and efficiently move your teeth into alignment. People will not even be able to see that you are wearing aligners. As your teeth move and your smile improves, you will change your aligners every one to two weeks, wearing them for 20-22 hours a day. One of the main benefits of clear aligners is that they can be removed to brush your teeth and you can eat all of your favourite foods without the worry of orthodontic appliance breakages or getting food stuck between your teeth like with traditional braces.
Why would I choose Invisalign?
For many patients, clear aligners are an ideal choice. Because they are clear and removable, you can drink and eat what you want during your orthodontic treatment. It allows for easier brushing and flossing compared to having treatment with traditional braces. They are also comfortable and less likely to cause irritation or abrasion to the cheeks and lips as often experienced with braces. In general, office visits are less time consuming because there are no wire adjustments necessary and there are less unforeseen additional office visits typically seen with braces when appliances get loose.
How does Invisalign work?
Your teeth and bite are scanned with an advanced 3D scanning camera called the iTero. Additional records are taken to finalize your customized treatment plan. This is when our orthodontic specialists plan each individual tooth movement with computer simulation to achieve the best possible alignment and bite correction. The aligners are then manufactured by Invisalign which you will wear in a series of trays switching every one to two weeks. As you replace each aligner with the next one in the series, your teeth will move one step at a time, week by week, until they have moved into their final positions. Often, full treatment with aligners may take up to 2 to 3 series (sets) of aligners. Depending on your individual case, if teeth are progressing as planned, in-office visits are typically every 8-10 weeks. We can even plan your treatment to extend the time between in-office visits, perfect for those who work or attend school out of town.
Benefits of Clear Aligners
Virtually Invisible
Aligners are made of clear, smooth, comfortable and BPA-free plastic that fits over your teeth. Most people won't even notice you're wearing them.
Eat What You Want
Simply just take out your aligners whenever you eat or drink, no need to worry about broken appliances. You can continue to eat all of your favourite foods while your new smile transforms.
Great for Athletes and Musicians
Since clear aligners are made of smooth material, it is completely safe for playing sports like basketball, hockey, soccer and volleyball. Playing wind instruments with clear aligners are also an easy transition.
Easier Oral Hygiene
Less food getting stuck between your teeth whenever you eat and easier access for brushing and flossing. This leads to overall healthy gums and teeth during orthodontic treatment.
Less In-Office Visits
Appointments in the office are quicker and less often. And since there is nothing in your mouth that can get loose or break, there are less unexpected additional office visits and less risk of discomfort, dysfunction or delay.
Orthodontic treatment for adults
Orthodontic treatment can be successful at any age. Adults especially appreciate the benefits of a beautiful smile and an improved bite. It is a misconception that orthodontic treatment is mainly for teenagers. According to the Canadian Association of Orthodontists, 1 in 5 orthodontic patients is over the age of 21. There is an increasing number of adults who are seeking treatment since more are understanding the importance of maintaining their oral health and have a desire to attain the best possible smile.
There are many reasons that adults consider orthodontic treatment including: having a more confident smile; improving the function of the bite; relieving the pressure or abnormal jaw discomfort caused by crooked teeth; alleviating uncomfortable bite caused by teeth that do not fit together well; and correcting teeth that are too spaced apart or too crowded, which often causes tooth decay and gum disease.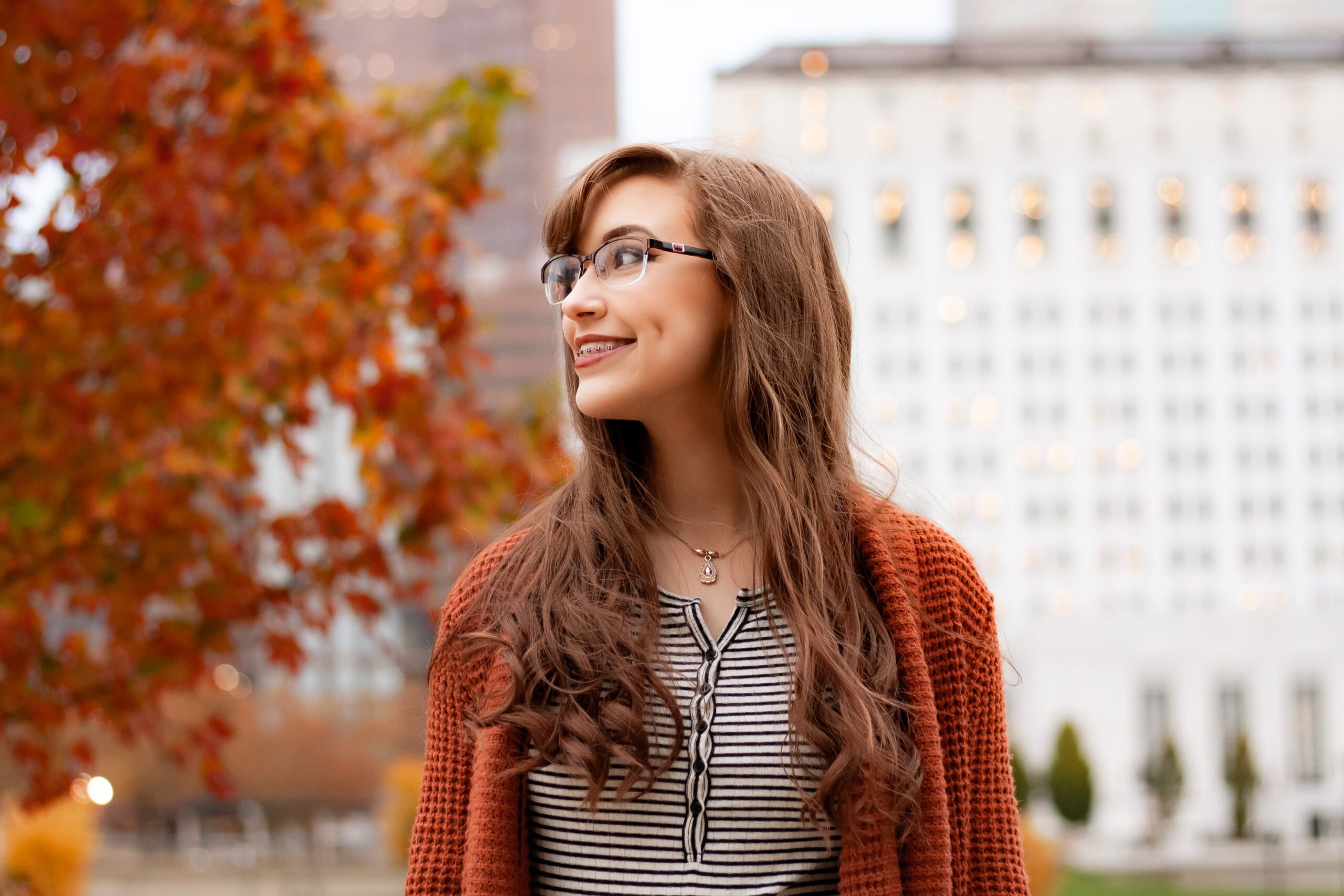 Why consider treatment as an adult?
Untreated malalignment of teeth and bites can continue to worsen over time. This can cause long-term health problems that will lead to more dental care and costs in the future. Crooked teeth and a bad bite can contribute to gum and bone loss, higher risk for tooth decay, and accelerated wear of the tooth enamel and tooth surfaces. The most significant health benefit for straightening teeth with orthodontics at any age is to facilitate easier home care and maintenance as it's much easier to brush and floss aligned teeth. Orthodontic treatment can also help boost your overall self-confidence, allowing you the freedom to smile without holding back and leading to an improved quality of life.
We recognize that adults and children often have different needs and require different levels of attention and care. We will work closely with you to ensure you receive the best possible treatment options that addresses your concerns and maximizes your treatment success. At North Okanagan Orthodontics, we may discuss both surgical and non-surgical treatment options when we see adults with severe bite and jaw discrepancies who no longer have significant growth potential. However, we recognize that many patients may not be interested in jaw surgery, so we try our best to offer non-surgical options to achieve as much improvement as possible.
Difference between adult treatment and treatment for children
The main difference between children and adult treatment is that younger patient's  jaws are still growing. In adults, these bones have completed their growth, meaning that growth cannot be used to accomplish orthodontic treatment objectives. In some cases, if the upper and lower jaws have a significant size or position discrepancy, orthognathic surgery may be required to align the bite and jaws for ideal results.
Other than bite or teeth malalignment, adults may seek treatment to correct other issues. Adults are more likely than children to experience bone loss and gum recession (periodontitis). Patients who have straighter teeth are less likely to experience gum disease and bone loss. Missing or worn-down teeth is another reason that adults seek treatment. Over time, teeth may shift or become worn-down, leading to movement into unwanted positions that can only be fixed with orthodontic treatment. Missing teeth can cause neighbouring teeth to tilt and shift, increasing the risk of gum disease, bone loss, and uncomfortable bites. Orthodontics is most often required prior to tooth replacement and restorative procedures (like bridges, browns and implants) to maximize their success and prognosis.
Not to worry, braces for teens are not nearly as scary as you may think. In fact, braces come in a variety of styles, materials and colours, making life with braces much easier, more comfortable, and even more stylish than before. In some orthodontic cases for teens, we are able to achieve great results with clear aligners (Invisalign) as well! Most patients are candidates for both and we are happy to provide you with the differences of either option so that you can make the best choice that best suits your lifestyle.
Why do I need orthodontic treatment?
Orthodontic treatment is a big part of life for many people in their teenage years of life. While braces may have had a bad reputation in the past, today's braces and other treatment options like clear aligners make it easy to look good and feel good while in treatment! Improving your smile and bite is one of the most valuable investments you can make to improve your overall appearance, self-image and oral health for a lifetime.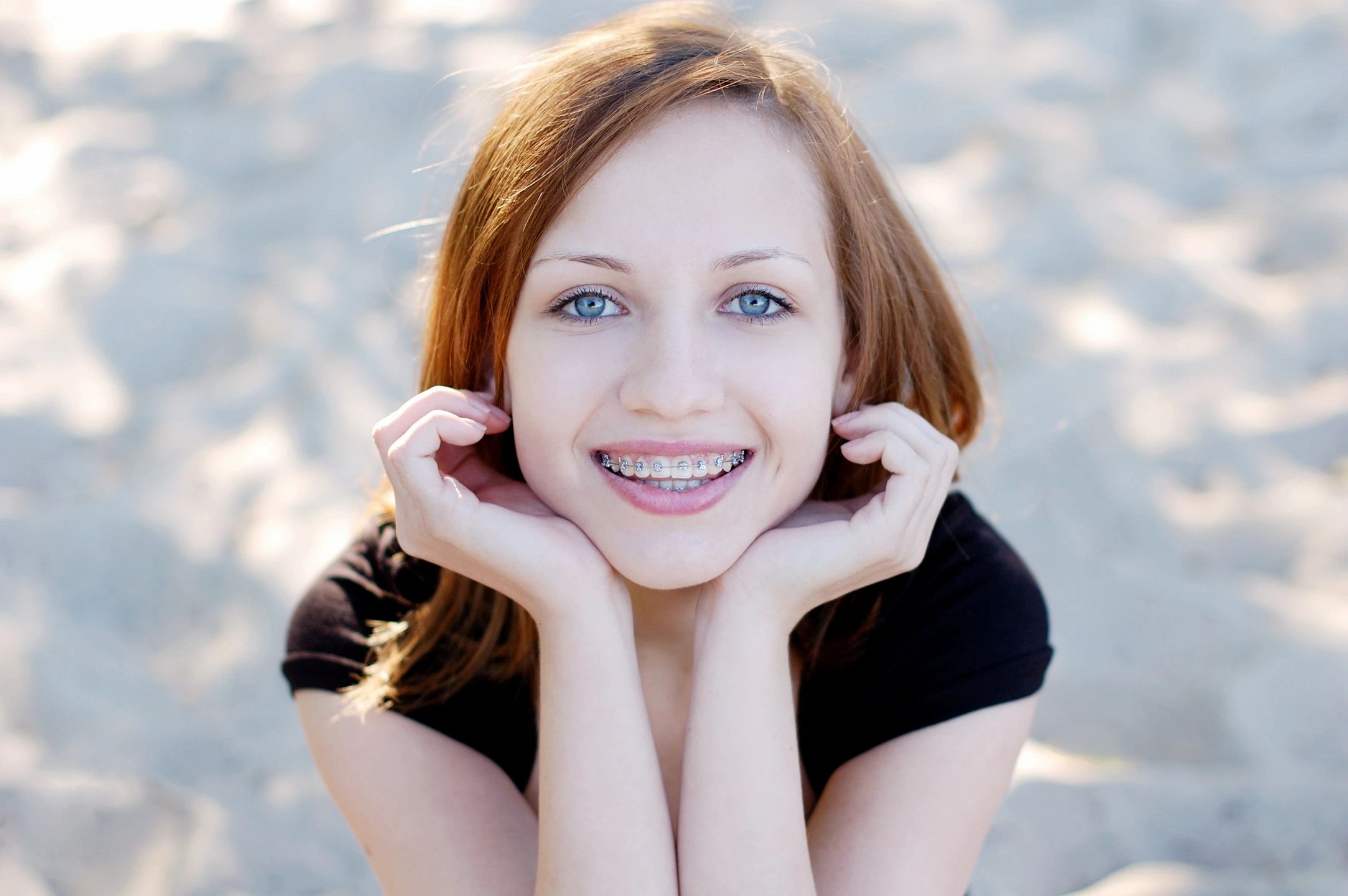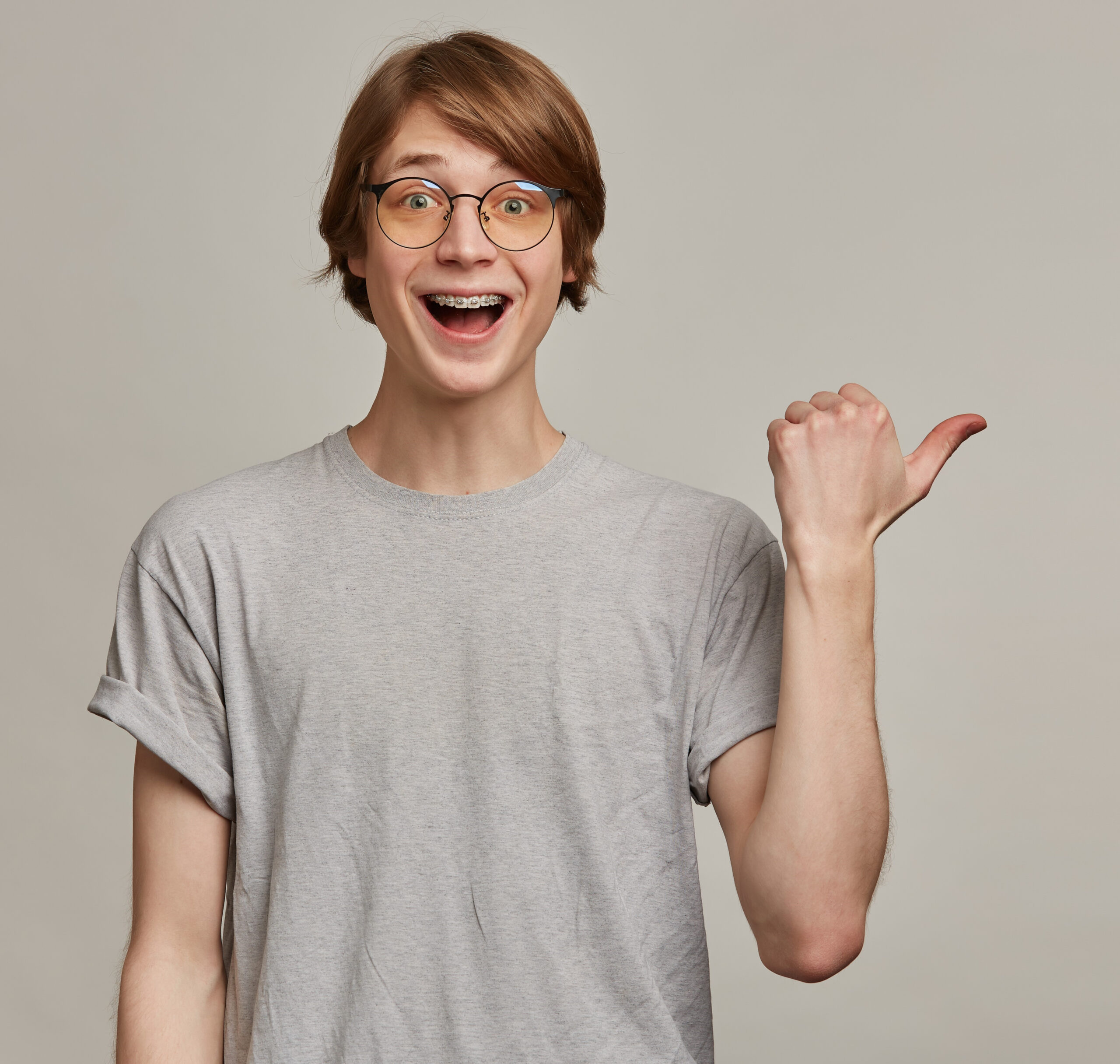 Benefits of orthodontic treatment
Straighter teeth are easier to clean and therefore less likely to have dental decay.
Ideally positioned teeth and healthy bites decrease the risk of gum inflammation, recession and bone loss.
Improved biting and chewing function and food digestion.
Well-aligned teeth and bites are at lower risk for future chipping and wear of tooth enamel.
Improved overall dental health and reducing the amount of potential dental work needed in the future.
A healthy and stable bite places less strain and stress on the muscles and jaw joints.
Improved speech articulation.
Improved aesthetics and appearance of your smile leading to improved self-confidence, self-acceptance and overall well-being.
Need more info? Check out our most frequently asked questions about Invisalign clear aligners.
How long does treatment with clear aligners take?

Every individual patient is unique and therefore treatment time varies from patient to patient and depending on what goals are to be met. Rest assured, our mission for every single patient is to align our goals with our patient's. In general, most orthodontic treatment plans finish within one to two years. Once our doctors meet you for a comprehensive exam and consultation, they will be able to provide you with an accurate estimate of how long treatment with clear aligners will take.

What are the advantages of clear aligners?

Because the aligners are clear, they are virtually invisible. The major benefit of them is that they are removable which means you simply take them out prior to eating, drinking, brushing and flossing. Because of this there is virtually no food restrictions and oral hygiene maintenance is much easier. Since there are no brackets and wires involved, there are less unexpected additional visits to the office with emergencies. Playing sports and musical instruments are much safer and easier as well!

Are there any food restrictions with clear aligners?

Essentially no! That is the beautiful thing about clear aligners, you simply remove them to eat and drink anything other than water. You can have all your favourite foods and drinks throughout treatment.

How much does clear aligners cost?

The cost of treatment with clear aligners will depend on how complex and extensive your treatment plan is. During your consultation we will provide you with a treatment cost estimate and flexible payment plan options.

You should never feel significant pain from clear aligners. In general the most tenderness to your teeth and gums occurs within the first day or two after placing the clear aligner for the first time. Since you will be instructed to advance to the next aligner stage after a week, you may experience some tenderness again for a day or two. During these times, the sensitivity is managed with softer foods and colder temperature drinks. Over the counter pain relievers such as Tylenol are also effective if needed.

How often do I need to wear my clear aligners?

To achieve the best predictability to move the teeth where they need to be, wearing the clear aligners for a minimum of 21 hours per day, 7 days a week is required. Ideally they are only removed for eating, drinking, brushing and flossing.

Will clear aligners work for me? Or do I have to have braces?

Invisalign clear aligners and braces are essentially tools that Drs. Kersey and Tran use to achieve alignment of the teeth and to improve bites. Most patients can be treated with either option and the same great orthodontic result can be achieved. However, there are certain cases where the doctor may suggest one option over the other as getting to the desired result is more efficient with that option.

Does wearing clear aligners affect my speech?

In general, most patients do experience a short-period of increased "lisping" of speech. This most often subsides to normal once patients get accustomed to their aligners. You'll be surprised that your friends, colleagues, and family won't even notice you have clear aligners.

How often are my appointments after I get my clear aligners?

After receiving your clear aligners, normally we see you for the next visit at the 6-week mark, if you are progressing well and have adjusted to the lifestyle with clear aligners, we normally extended your visits from every 8-12 weeks. We have many patients who work or study out of town so we are more than happy to provide you with all of the clear aligners and monitor your treatment remotely!

Am I too old to consider orthodontics?

Absolutely not. Teeth can be moved safely at any age provided the patient is overall healthy and the condition of their teeth, gums and mouth is satisfactory. We are proud to routinely treat patients even in their 60s and 70s even with clear aligners!

Do I need a referral to schedule a consultation with you?

You do not need a referral to visit us for your consultation. This is one of the biggest myths in our profession. Please feel free and welcome to book your consultation with us, we look forward to meeting you. And better yet, feel free to introduce us to your friends and family. Your personal recommendation is the best way to help us help those you love.
New Patient? Book A Consultation